Meeting room, workshop Thanh Hoa at PalmHotel Hotel is a place for discussion, review and evaluation. plans of companies and businesses. Depending on the nature of the meeting or seminar , we have different ways of arranging tables and chairs. This article will suggest some basic arrangements for meeting room and conference room tables:
Theater style layout:



Meeting room – 9th floor
In the room divided into two areas, is the guest area (audience) and the area for the speaker. In the guest area, only seats without tables, speaker areas can be equipped with means such as tables, projectors, podiums. This layout of tables and chairs is suitable for new product launches, art shows, competitions.
With this type of arrangement it is suitable for events where the number of participants is large, no notes needed. It should be noted that the arrangement of tables and chairs so that the guests can observe the speaker talking above without being obscured by the front seats.
Arrange chairs around the U-shaped table: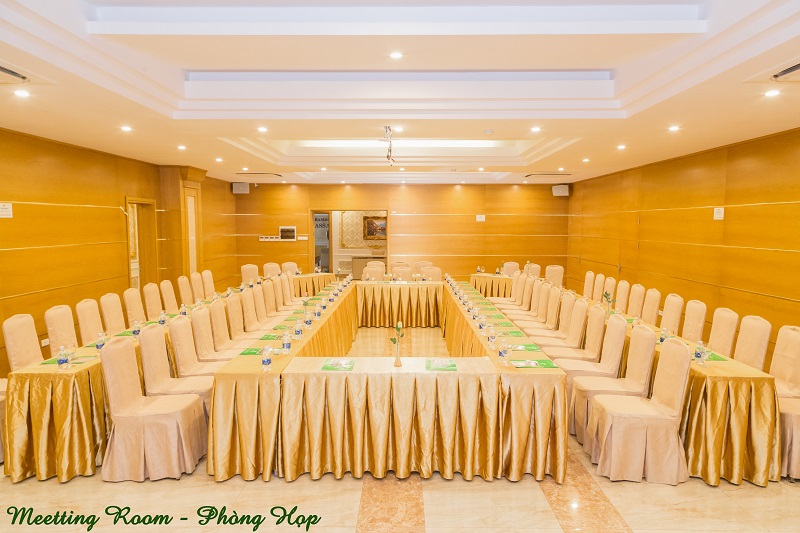 Meeting room – 9th floor
This table is designed in U-shape, chairs will be arranged around the U-shaped table. With this type of table, people are easy to interact with each other, easily working directly when sitting face to face with each other. This type of tables and chairs is suitable for conferences, shareholders, board meetings, committee meetings, or discussion groups to present a topic together. The working space in this layout is very good, suitable for the number of attendees of less than 25 people. Because this type of meeting table is quite narrow, with the right number of people, the new interaction will be better.
Arrange tables and chairs in a classroom style: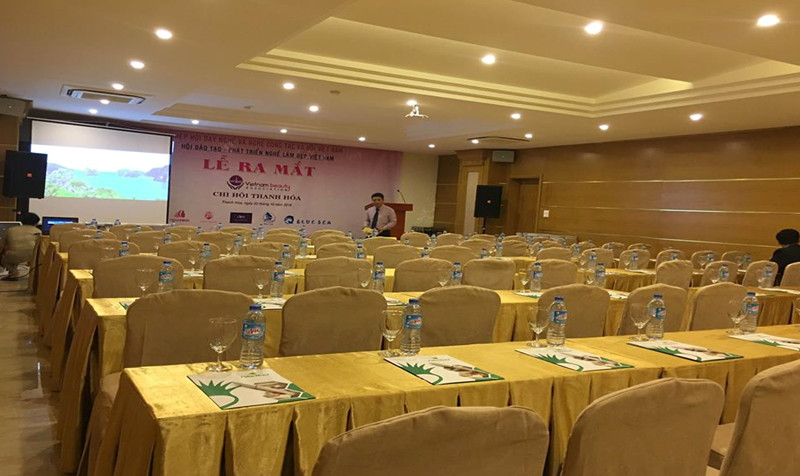 Meeting room – 9th floor
With this kind of arrangement, it is similar to the layout in the theater, but in this way, we will have a table in front of the rows. Suitable for conference conferences that deliver materials to attendees, guests need to use a laptop or take notes while listening to speakers. Even more convenient, the guests can freely put their hands on the table or leave things like bags or phones. As well as the layout in the theater, it is important to note the arrangement of pictures obscuring the vision of people behind.
Meeting room, seminar at 9th floor Palm hotel Thanh Hoa with a maximum capacity of 200 guests with luxurious wood paneling design, 04 central air conditioners and equipment full equipment, facilities for organizing events: projectors, projection screens, professional light sound loudspeakers, white boards, this is the ideal place for conferences and seminars. face, customer appreciation, class meeting.
If your company or company needs, contact us immediately:
PALM HOTEL
15 Phan Chu Trinh – Dien Bien ward, Thanh Hoa city.
Website: http://palmhotel.vn/
HOTLINE:
Mr Trung – 0913 625 96