Located in the center of Central Vietnam, Thanh Hoa is not only a place to keep historical and literary traditions It is proud to be proud of, but also a tourist highlight that went into poetry. "If you go home, you will see problems. You will not want to leave the promised land." Join Palm Hotel to discover Thanh Hoa and don't forget to book a hotel room at Palm Hotel to have the most obvious experience!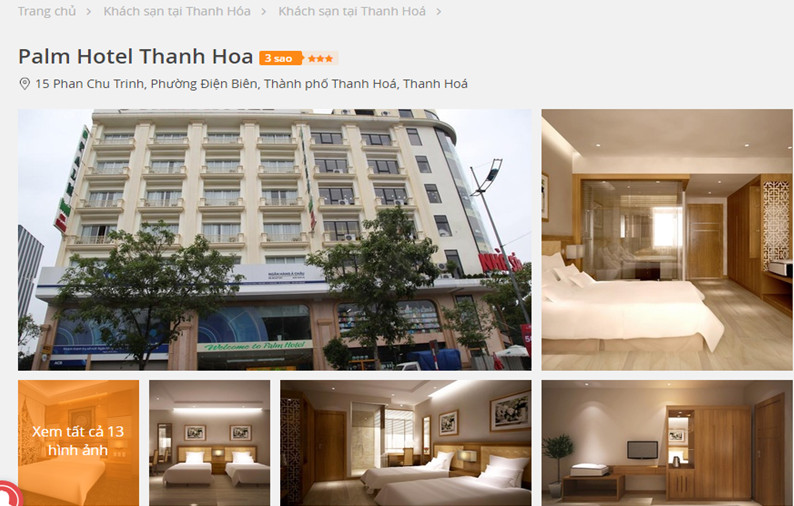 Thanh Hoa in North Central Vietnam, the northernmost point of Thanh Hoa is 150 km from Hanoi. The west of Thanh Hoa borders the Lao People's Democratic Republic, with a 192km border line running through the rugged high mountains. The North borders Ninh Binh, Hoa Binh and Son La provinces with a 175km boundary. The South borders Nghe An province with a borderline of more than 160km and the East of the East Sea with a 102km long coastline.
So where should I go when traveling to Thanh Hoa ? Thanh Hoa is a major tourist destination in the Central region, so the system of motels and hotels in Thanh Hoa is invested in diversified development. Depending on the purpose of the trip is a resort or phuot Thanh Hoa as well as a generous or tight fee, please choose the most suitable hotels for you.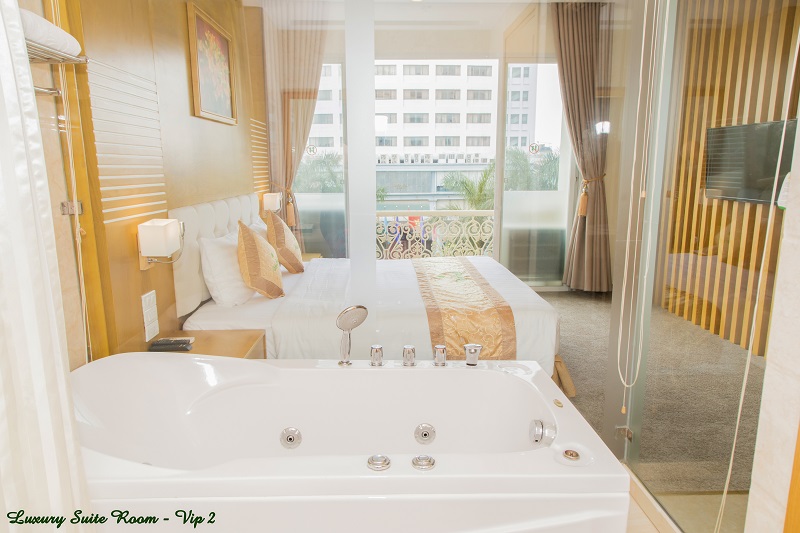 Palm Thanh Hoa Hotel
Address: 15 Phan Chu Trinh, Dien Bien Ward, Thanh Hoa City.
Price: from 700,000 VND / night
Located in the heart of the city Thanh Hoa, located right on one of the most beautiful streets of the city – Palm Hotel – Thanh Hoa near Vincom luxury shopping, dining, entertainment center with supermarkets, banks, schools and many other public agencies. Especially with a convenient traffic location, 500m from National Highway 1A, overlooking Lam Son Square, Lam Son Theater – pride of the Thanh people.
Palm Thanh Hoa Hotel is invested to build according to 3-star standards of Vietnam National Administration of Tourism.
With 11-storey system consisting of 52 bedrooms with 04 basic types : Luxury Luxury Suite, VIP Room, Deluxe Double Deluxe Room and Superior Twin Standard Room invested with modern equipment , synchronous, harmonious and cozy decoration in a classic and modern style. The rooms are spacious, airy, with security box, drinks, free Wi-fi and many other amenities.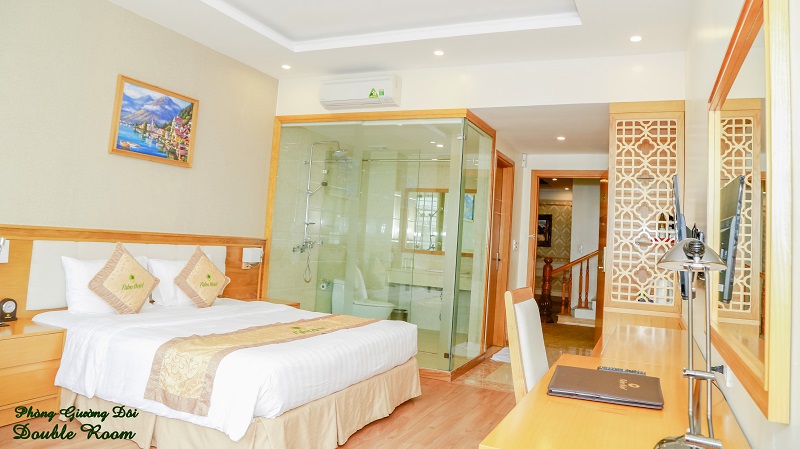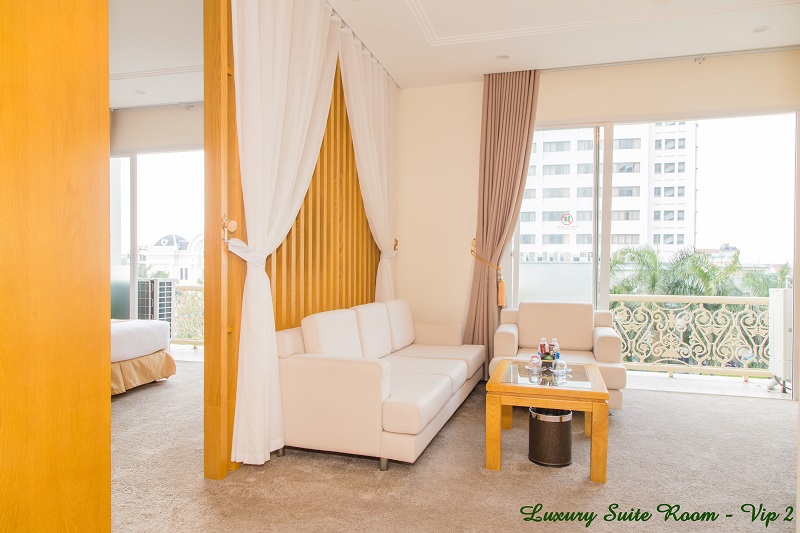 Comfortable bedroom (Palm Hotel)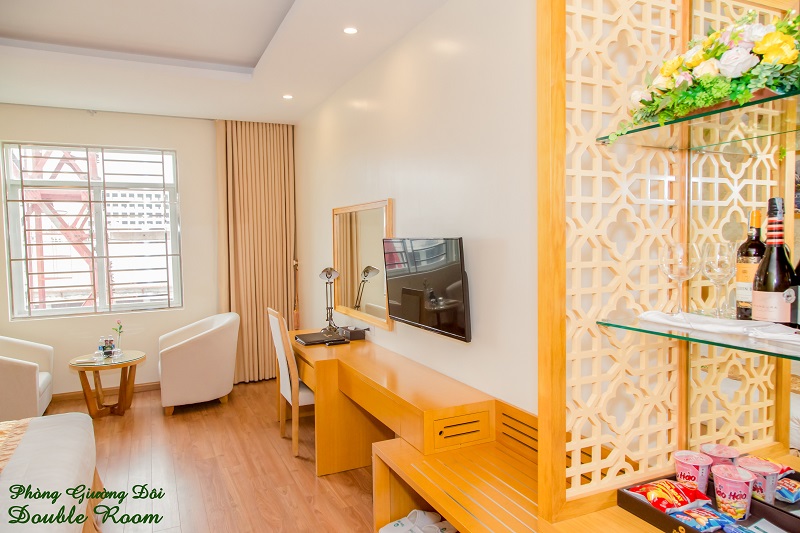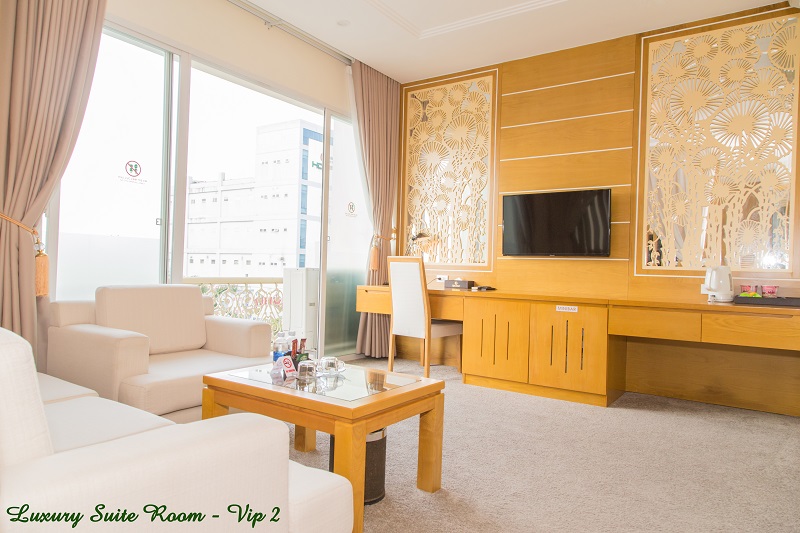 Luxurious Living Room (Palm Hotel)
To find out details about images, room quality as well as receive many price incentives. You can access the website: http://palmhotel.vn
Hope, can provide you with the necessary information for you to have a smooth and convenient trip to Thanh Hoa .
Palm Hotel – Experience the difference
Address: 15 Phan Chu Chinh – Dien Bien ward – tp. Thanh Hoa
Phone: 02373 5 99999 – Fax: 0237 399 8989
Hotline: 0163 510 3393 – 0915.922.121 – 0913.193.368
Email: info@palmhotel.vn
Website: http://palmhotel.vn